Carbon Steel Pipe
About Kelly Pipe
History of Kelly Pipe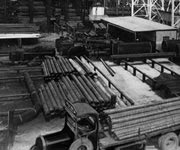 Kelly Pipe is one of the largest distributors of pipe in the nation. Founded in 1898 and headquartered in Santa Fe Springs, CA, Kelly serves over 3000 customers in all 50 states, as well as overseas, from its extensive inventory of pipe ranging in size from 1/8″ to 54″ diameter.
Kelly functions as a master distributor of standard and line pipe, marketing to other pipe distributors throughout the nation. They, in turn, sell Kelly's products to municipalities, energy companies, contractors, water distributors, power plants and governmental institutions. In addition to its core line and standard pipe distribution business, Kelly has built major niches in the energy business through its prominent Oil Country Tubular Goods (OCTG) Division.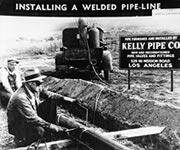 Kelly's success and longevity result from its unparalleled access to leading sources of domestic and imported pipe, unmatched scale and breadth of inventory, rapid delivery, and superior customer service. As a result, the Company has experienced steady annual growth.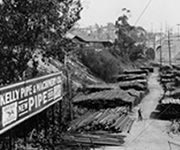 Kelly operates from a network of 20 locations throughout the United States and Internationally, consisting of 17 stockings branches and 3 sales offices. In addition, we stock material at multiple third-party stocking yards. The Company's rapid expansion has been propelled by new openings across the country.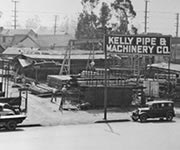 Kelly stocks standard and line pipe in a broad assortment of sizes, weights and grades both black and galvanized, both seamless and electric welded. Its product line also includes a significant portion of OCTG and special order items such as plastic pipe, cement coated and lined pipe, stainless steel products, valves, and fittings. The Company performs a variety of value-added fabrication services ranging from cutting, grooving, threading, lining and coating, fabrication, and welding.
Kelly's proven management team has demonstrated its ability to propel the Company forward by attracting talented industry veterans and emerging professionals just beginning their careers. This energetic mix assures continued opportunities for newcomers at all levels and skills.
Kelly Pipe is proud to offer a wide variety of convenient, valuable pipe-related services to our clients.
Many of these services are value-added based on the nature of your order.








The Ultimate Pipe Source.

Contact one of our sales professionals now to get a competitive quote for any of your pipe needs. We pride ourselves as a reliable supplier of industrial pipe offering over 100 years of superior service. Trust Kelly to meet your needs and exceed your expectations while remaining competitive.